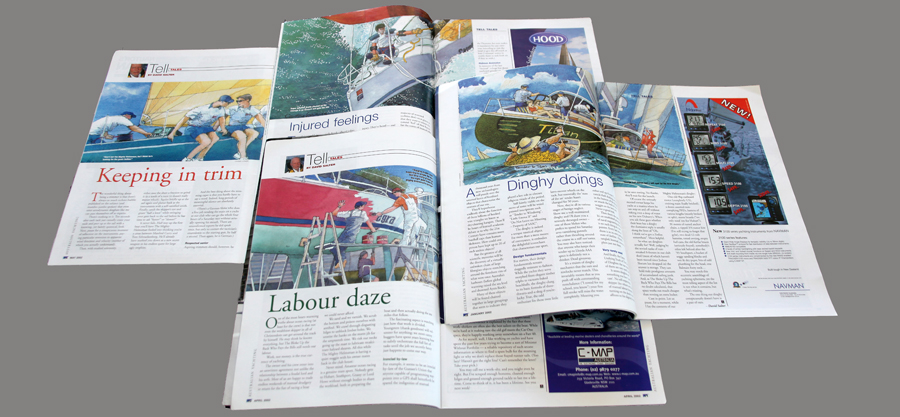 Illustrating All Things Sailing
From a very young age I've had a pencil or a paintbrush in my hand whenever I can, so illustrating boats and sailing combines two of my favourite pastimes.
The opportunity to get my work published in magazines started with a brief article on crewing a Farr 40 that I wrote and illustrated for Australian Yachting in 200.
Then in 2002 I was commissioned by Australian Yachting to prepare watercolour illustrations for series of humourous tales by well known yachting author David Salter (see the above image of some of those illustrations in the magazines and copies of the original artwork below). Australian Sailing magazine also commissioned me to illustrate an article in the same vein in 2004.
In 2005 Club Marine Magazine commissioned me to provide technical illustrations for my article explaining the workings of the Supermaxi yacht Wild Oats XI. In 2010 I was asked to repeat the exercise for my article on the America's cup winning trimaran BMW Oracle.
A selections of these and other illustrations can be seen below or by going to the 'Photography' Menu on the Homepage and selecting the gallery named 'Illustration'.
Media in Which I Work
While I am naturally drawn to creating graphics by hand - I paint in watercolour, gouache or acrylic and I draw in pencil or pen and ink - I am a regular user of The Adobe Suite of Photoshop, Illustrator and In Design to enhance or colour render my images digitally.
And for those IT geeks interested in such things I often use The CAD program SketchUp regularly to help me create 3D images as well as to to set up accurate perspectives from which I work by hand. All final artwork is available in JPEG,TIFF or PDF format as preferred.
Illustration Gallery
The illustrations below are annotated with the names of the magazines in which they appeared. High quality signed copies of these illustrations are available for sale, so please contact me for the prices if you are interested.