From Tales Aboard to Yachting Journalism
What started in 1999 as tales of shared experiences amongst my fellow offshore race crew eventually turned to freelance photojournalism in the intervening years as I began to write race reports, boat reviews and humorous yarns for a range of Australian and international magazines and websites.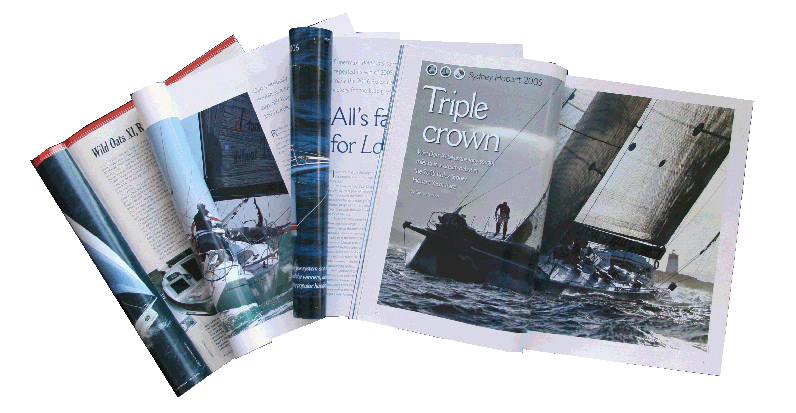 I now write, photograph and illustrate regularly for Club Marine Magazine covering major regattas and offshore races as their principal sailing contributor.
I have been a regular contributor of stories and images for Sail-World.com since its early days and my words and images have made periodic appearances on sites such as Scuttlebutt and the Daily Sail.My writing covers a broad cross-section of journalism from techical reports on Supermaxi yachts like Wild Oats XI and Alfa Romeo for the respected US magazine Sailing World to a layman's description of the 2010 America's Cup winning trimaran BMW Oracle and a humorous tale on the joys of being a bowman.
The magazines and websites to which I have contributed stories and reports over the years include a broad range of print and digital sailing media such as:
Club Marine Magazine (includes Sydney to Hobart since 2004, Hamilton Island Race Week including the Race Week Program Introduction since 2005 and the Louis Vuitton Cup in Auckland in 2009 and 2010 and the J Calss Regatta In England 2011)

Sailing World US (technical report on Wild Oats XI and Alfa Romeo shortly after their launch in 2005)

Modern Boating (Hamilton Island Race Week 2008)

Sail-World.com (numerous reports and stories since 1999)

Reef Magazine (Hamilton Island Lifestyle Magazine) cruising story 2014

Seahorse International magazine, technical article on new boat build, 2014

Yachting World (UK), cover story of the Rolex Sydney to Hobart Yacht Race 2014.